If you want to know whether your SEO efforts are making any kind of progress on your websites, then you need to understand how your positions on the SERPs (Search Engine Result Pages) correlates to how much organic traffic you're able to get on your sites, and why you need to be tracking all your important search queries all the time.
This review will give you all the information you need to determine if Nozzle.io has the right features to be a reliable rank tracking tool that can be used alongside your SEO campaigns.
What is Nozzle and What Does It Do?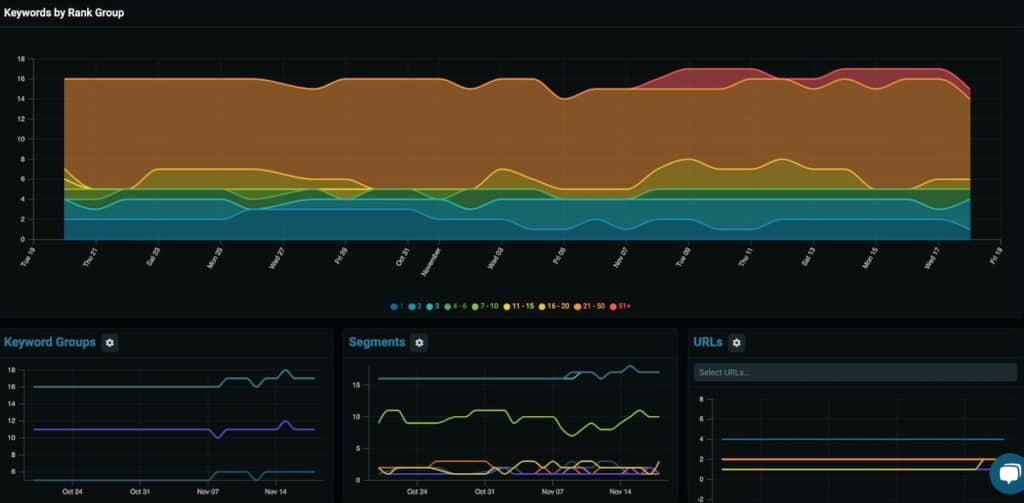 Nozzle is a rank tracking tool that helps you to monitor your keywords and search queries in SERPs. It comes with extensive tracking features that puts many others to shame. Nozzle collects as much data as it possibly can, and displays all these data points in way that allows you to identify problem areas on your site easily.
Apart from tracking your keyword rankings, Nozzle also provides you more information such as the estimated traffic, how many pixels your result is from the top, the percentage of keywords that are above the fold and many more.
Who is Nozzle for?
Rank tracking is one of the few ways to measure your SEO progress. In order to do so, you will need a rank tracking tool. They are a couple of rank tracking tools in the market, so who is Nozzle most suitable for?
Businesses or websites tracking hundreds of keywords or more
Businesses or websites tracking keywords in multiple locations or devices
Agencies tracking keywords for multiple clients
Pricing is important when it comes to selecting your rank tracking tool. Nozzle becomes very worth the price when you need to track hundreds of keywords or in multiple locations and devices. This is because their smallest plan comes with 10,000 pulls. See more in the pricing section below to understand how pulls work.
Nozzle's Features
Nozzle is not an all-in-one SEO tool that does a bit of everything. It focuses on rank tracking. So this means that all the features revolve around rank tracking alone, making it a very comprehensive and specialized tool. Here are just a few features that display what Nozzle can do.
Keyword Groups / Segments
By using keyword groups, segments, URLs or individual keywords, you can narrow down on a specific segment of your data to have a better analysis of how each group is doing, and further optimize areas that are lacking. You can group them by location, language, device, etc.
SERP Features
Google search has came a long way, displaying rich results in our searches in many forms, such as featured snippets, people also ask, images, products, local, etc. Right now, Nozzle is only able to track featured snippets, but the following features are coming soon:
Local
PAA
Videos
Images
Products
Auto
Hotels
Flights
Media
Jobs
Events
Finance
Reviews / Ratings
Twitter
Estimated CTR & Traffic
Nozzle provides the estimated CTR and traffic for your keywords so that you don't have to go back and forth between tools to find out which keywords have more value to them. You'd have an easier time making out which are the more competitive keywords that are harder to rank for.
Pixels From Top
Due to having so many rich results and ads displaying on our SERPs, ranking number one organically hardly brings you to the top of the page anymore. Nozzle tracks the pixels from the top, a more quantifiable metric, to let you understand where exactly where your result is positioned on the page itself.
How Reliable is Nozzle?
A rank tracking tool is only as great as how reliable the data is. There is no point in having extensive features if the data isn't accurate to begin with. Thankfully, Nozzle excels in both.
Users get varying results depending on their devices, locations or even preferences. This is due to the search engine's personalization and algorithm variations for each user. But what's important is that the rank tracker is consistent with the results, even if it's slightly different from what you see, so that you have a consistent baseline when trying to track your performance.
Keyword tracking in Nozzle has been fairly consistent in this regard. So when your ranking goes up or down, you know that this is a fairly accurate reflection of your rankings in Google, rather than an inconsistency with the tool itself.
Nozzle - Pros
After using Nozzle for a few months, I've started to see areas where I enjoyed much better than other rank tracking tools I also use. So let's start off by taking a look at which areas Nozzle excels in.
Nozzle Tracks Your Competitors for Free
There are times where you might want to take a look back at certain data points, but realized that your rank tracking tool did not track any of that information at all.
One frequent example is competitor tracking. So, if you noticed a new competitor rising up the ranks, and you wanted to take a look at how their progress was like before reaching where they are, you would need to be tracking the competitor from the start.
For most rank tracking tools, you would have to set them up as a competitor so that their ranking positions get tracked too. However, it would be very unlikely that this would have happened as they were never in your radar in the first place.
Furthermore, most tools I've used give you a hard limit on how many competitors you can track, such as 3. Want to track more? You'd have to spend more credits. Want to track 30 competitors per keyword? You may end up with a bill that's many times more expensive than you initially expected.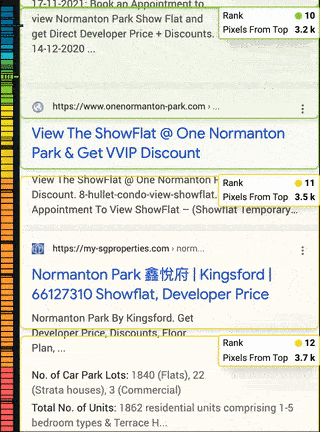 Nozzle tracks all your competitors for free. This makes total sense as why would you not want to have the data for all your competitors rather than a select few? You can even view the historical data in a way that looks like the actual SERP itself. It's nice that they do not charge you extra for information that they already have. All you have to do is to set your keywords once, and Nozzle takes care of the rest.
Nozzle Credit System
Nozzle's credits are called "pulls". You can control the frequency of each pull. In one single pull, everything on the SERPs get pulled based on your search criteria. So this means two things:
Every single information that can be tracked in that "pull" will be tracked and stored, where you will be be able to access the data in the future. No additional credits needed.
You have the flexibility to control how often you want to perform a pull. This can be granularly controlled for each keyword, and not just for your entire project.
With this format, you'd be able to have custom tracking schedules for each project where you can assign more pulls more frequently to your keywords with higher priority. This control really helps you to maximize your credits.
Nozzle Dashboard

The Nozzle main dashboard is a great one. It definitely looks like it was designed for agencies. All your projects are being displayed on one single page, together with the most essential numbers and charts that give you a good overview on how your project is doing.
It's easy to spot which projects are not performing up to expectations just from looking at your dashboard.
What Nozzle Can Improve on
Having used Nozzle for a while, there are some areas where I feel could be improved on. These are at most, slight inconveniences that doesn't take away from the true ability of what Nozzle does, but it does affect the overall experience just a little for me.
Ability to Customize Dashboard Layouts
Nozzle is designed to show you tons of information for all your projects in one single dashboard. I really like this about Nozzle as I've already explained. However, there's no way to make any kind of customizations to my dashboard.
Even the most basic customizations would come in handy, such as being able to sort my projects in a custom manner so that my current and more crucial projects are showing on the top of the list rather than all the way down below.
Showing the Time Last Checked
When I check my data, I like to know precisely when it was last updated. I can't get this information from Nozzle. The workaround is to check the latest date on the chart, which is not very intuitive at all. Having the time last checked system in pace gives me a nice and quick way to confirm that I'm looking at the latest data and not something that was updated a week ago.
Nozzle Pricing
Here is Nozzle's pricing table. They also have a custom plan if you require that.
Annual Pricing (price per month paid annually)

Monthly Pricing

As you can see, Nozzle starts to get more worth if you are tracking multiple projects, or perhaps a single large project.
Pulls are like credits. However, 10,000 pulls does not mean 10,000 keywords (unless you want to track 10,000 keywords once a month on a single device at a single location).
You have control of how many pulls you want to assign to a keyword, depending on how frequent you want the checks to be, which devices you want to check on and which locations you want to check from.
Example of how pulls are calculated
Example A: 5 keywords, once a day (x30), on desktop and mobile (x2) in 3 locations (x3)
Total estimated pulls: 900 / month
Example B: 5 keywords, once a week (x4), on desktop and mobile (x2), in 1 location (x1)
Total estimated pulls: 40 / month
As you can see, Example A could be used for an active project that requires day to day tracking in multiple locations. Plenty of pulls are assigned for this. Whereas Example B could be your branded keywords which are generally more stable, so monitoring them once a week might be sufficient enough.
By having this "pulls" format, Example B saves me 860 unnecessary pulls a month compared to having to track all keywords daily. If you carefully control your pulls across all the projects you have, the savings will become even more apparent.
Nozzle Alternatives
Over the years, I have used several rank tracking tools to track all my projects. Some are more comprehensive than others. I find that the following two tools have features on the same level as Nozzle.
SEMrush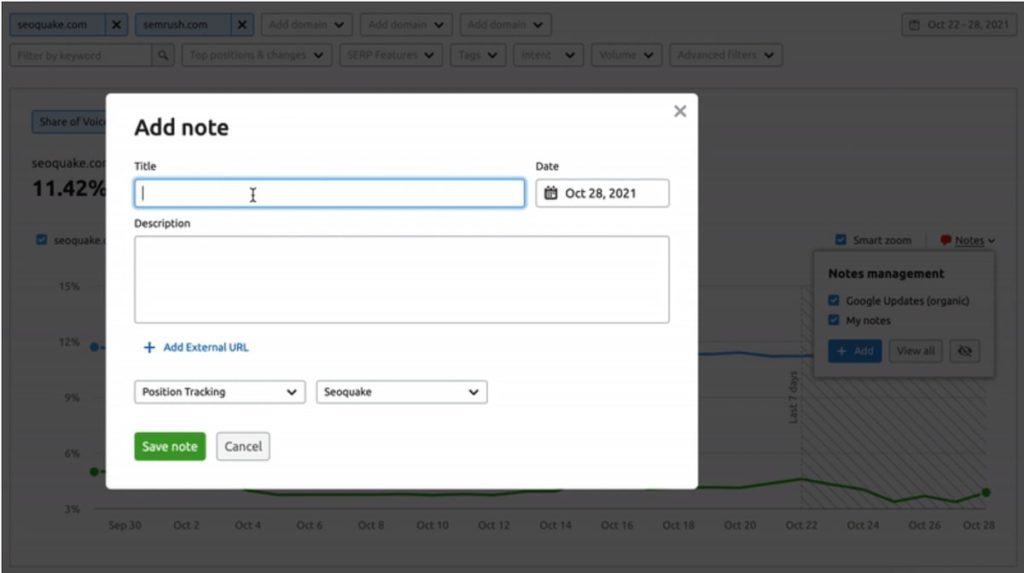 SEMrush is an SEO and PPC research tool which also has position tracking. One feature I like about their tool is the ability to add notes and have them displayed on your charts, so that you can easily map your events, such as a link building campaign or website downtime, to your ranking movements.
However, they limit you to tracking 20 competitors, but that's probably fair enough for most.
Accuranker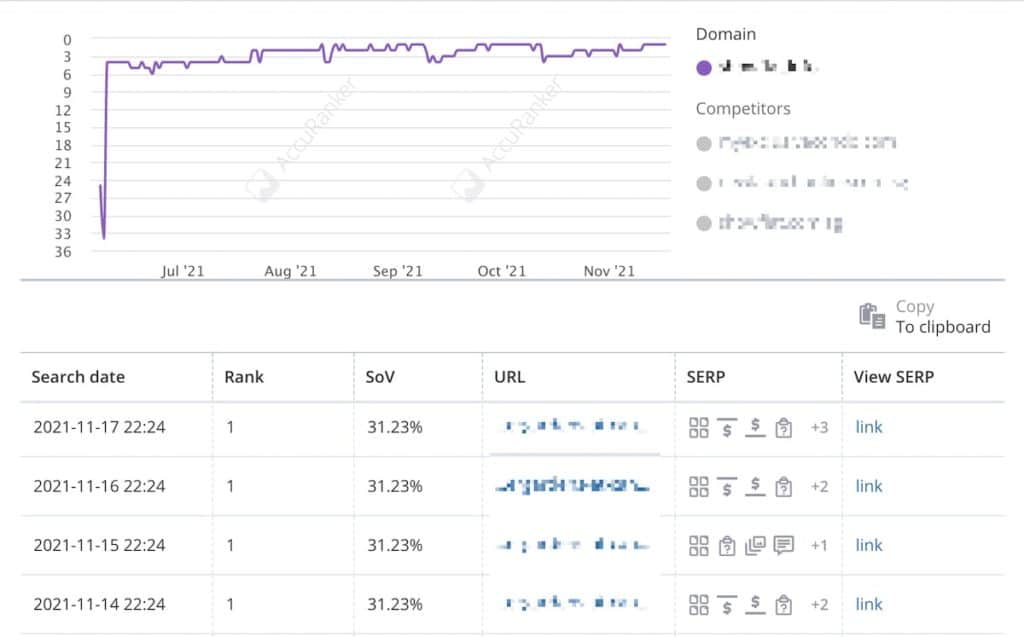 Accuranker is another tool similar to Nozzle, where they are dedicated to rank tracking. They have a really nice UI, and they are able to track lots of other SERP features Nozzle is not able to at the moment.
On the other hand, Accuranker limits you to 10 competitors per keyword, which I find a little too low, especially for high competition searches.
Is Nozzle Worth It?
Nozzle is a specialized tool. It does not try to do everything. But it does rank tracking really well. But if you are in need of an all-in-one SEO tool, or if you only have a website with only a handful of keywords that you need to track, Nozzle is perhaps not for you. You can probably opt for a basic ranking tracker without the features mentioned above with a tool like SerpRobot.
Nozzle does a really solid job tracking your standard organic search results, and I've been impressed by all its features. The rest of their SERP features are not released yet, but once they are, Nozzle can be used effectively for all kinds of SEO projects including for local.
If you are looking for a comprehensive rank tracking tool to keep track and analyze your organic rankings for multiple or larger projects, check out Nozzle. You will appreciate the depth of this tool and also how their flexible credit system will likely lower your overall cost. Plus, with their new features coming soon, I'm very optimistic about this tool and what's more to come.