Disclosure: The opinions expressed in this post are my own. This post may also contain affiliate links, which means that I will receive a commission if you decide to purchase through my links, at no additional cost to you.
Cloudways Vultr High Frequency Instances
Cloudways just introduced the availability of Vultr High Frequency instances on their platform.
Now if you're not familiar, Vultr is a global cloud hosting provider with 17 data center locations worldwide. Their high frequency compute plan has been making waves in the cloud hosting space since they launched it in 2019.
With the new Vultr High Frequency plans in their lineup, it means that you get an even more powerful hosting option while still being able to stay with Cloudways.
How Much Faster is the Vultr High Frequency Plan?

Vultr has been providing cloud hosting since 2014. They have really affordable compute plans, and are a highly reputable name in the cloud hosting space.
In 2019, they released their high frequency plans, which are a step by from their standard instances. The high frequency plans simply has more superior hardware, catered for more demanding requirements.
Here are the 2 main upgrades you get with the high frequency plan:
3+ GHz Processors
NVMe SSD
With 3+ GHz processing speed, it means you have more power to handle processing-intensive websites.
Also, traditional SSDs tend to be the area where speeds get bottlenecked at. With the new and extremely fast NVMe SSD, you can practically eliminate this bottleneck. NVMe SSD when compared to SATA SSD (just one generation back), writes data and seeks data 4 times and 10 times faster, respectively!
Both upgrades have a direct influence on your website speeds, and you will likely see a distinctive difference and improvement. In fact, Vultr themselves claim that the storage and processing benchmarks exceed standard compute instances by up to 40%.
Available Locations
Being a popular and established company, it's no surprise that Vultr has 17 data center locations worldwide to cater to customers globally. They span across the US, Canada, UK, Europe, Asia and Australia. As of writing, here is a list of where their data centers are located at:
Miami
New Jersey
Chicago
Dallas
Seattle
Los Angeles
Atlanta
Silicon Valley
Toronto
Amsterdam
London
Frankfurt
Paris
Tokyo
Seoul
Singapore
Sydney
Benefits of Cloudways
Access to Popular Cloud Hosting Providers

With Cloudways, you get to access to hosting your websites on Digital Ocean, Vultr, Linode, AWS or Google Cloud, without having to configure the servers or perform optimization and frequent server updates manually.
This means that non-techies can easily host their websites on these powerful and popular data centers at a very reasonable price.
Fully Managed Server
You simply purchase a plan, deploy an instance, and Cloudways will handle everything else for you, such as server configuration and optimization, as well as the installation of WordPress.
In comparison, you do not get such features and support if you were to launch your instances directly with the cloud hosting providers.
Server Maintenance & Optimization
Cloudways will handle everything that is server backend related. Not only are your servers tuned for performance, they are also preloaded with Varnish Cache, to boost the performance of your websites. Furthermore, you never have to perform server updates as Cloudways does that for you too.
Excellent 24/7 Support
Cloudways provides different tiers of support. Their advanced and premium support plans even have plugin and theme conflict troubleshooting within their scope. However, their free support tier is good enough for the typical user, and covers infrastructure and platform support. With that being said, the quality of support you receive from Cloudways is just outstanding.
Pricing
The Vultr High Frequency plan on Cloudways starts at $13 per month, which is only $2 more than the $11 standard Vultr plan. With this plan, you will be equipped with a 3+ GHz CPU, 32 GB of NVMe SSD, 1024 MB memory and 1 TB bandwidth, powerful enough for a mid-level, medium traffic WordPress website.
Is it Worth Upgrading to the Vultr High Frequency Plan on Cloudways?
The high frequency plan has a direct influence on your site speeds as compared to the standard plan. You will definitely be able to observe better performance and get your money's worth.
However, if you are absolutely satisfied with your current site speeds and performance, or if your website is not processor-intensive, then there may not really be a need for that extra boost.
On the other hand, if you are someone that just wants the best site speed possible, then $2 a month extra for the performance boost seems like a really great deal.
How to Move Over to Vultr High Frequency on Cloudways in 4 Easy Steps
So long as you are already using a plan from Cloudways, moving over to the new high frequency plans by Vultr is a simple process.
Step 1: Log into your Cloudways dashboard and locate the server you want to perform the upgrade for.
Step 2: Click on the 3 dots icon on the very right, followed by 'Clone Server', then confirm the action by clicking on 'Yes'.



Step 3: You will then be brought to a page where you can choose your infrastructure. Select 'Vultr', then on the dropdown menu, choose 'High Frequency'. Then choose your memory size, preferred server location and finally click on the 'Clone Server' button.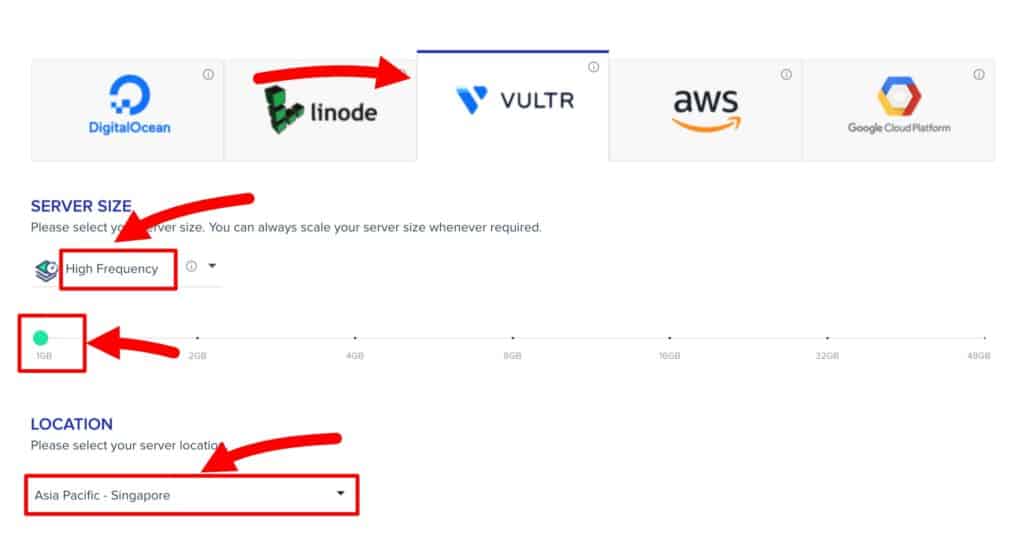 Step 4: In just a few minutes, your cloning process should be completed. Make sure to edit your DNS records accordingly to point to the new IP address. Once you have verified that your new server is up and running, you can proceed to delete the old server that's no longer needed.
New to Cloudways?
If you are looking for a fast, managed, highly reliable and affordable cloud hosting solution, I highly recommend Cloudways. They are suitable for all types of website owners, whether you are first starting out, or if you already have an established website. They have affordable plans, and are easy to scale up when your requirements grow. Check out Cloudways and their plans right here.